The Illustrated Practical Encyclopedia Of Archaeology: The Key Sites, Those Who Discovered Them, And How To Become An Archaeologist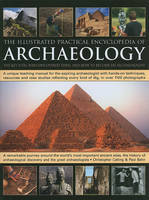 Stock information
: $51

.95

(AUD)

: 9780754820574
: Anness Publishing
: Anness Publishing
:
: February 2010
: 220mm X 168mm X 37mm
: 36.95
: September 2010
:
:
: books
:
:
: CHRIS CATLING
:
: Hardback
:
:
:
: 930.1
:
:
:
: HB
: over 1200 colour photographs
:
:
9780754820574
Description
The first part of the book explores the many specialized and exciting fields of archaeology, from forensics applied to burial sites right through to the deciphering of ancient languages. The varied techniques involved in planning and conducting an excavation are unravelled stage-by-stage, from the initial surface sampling of a site to the post-excavation practice of dating finds and building matrices. Learn how to locate hidden features through map regression, by studying aerial photographs or accessing inventories; walk a site to sample the finds turned up by farming or take part in an exhaustive site survey using geophysical technology. Attend a dig and make your first cut with a trowel, then proceed to fully excavate part of a site recovering and recording evidence of early settlers as you go. Find out what happens to finds once they have been recovered, and find out about the different methods of placing them in context, from stratigraphy to seriation. The book then moves on to look at the men and women who have been responsible for many of the most important discoveries in world archaeology. This section includes profiles of archaeological pioneers such as Heinrich Schliemann, the excavator of Troy, and Howard Carter, the discover of Tutankhamen's tomb right through to modern archaeologists such as Maria Reiche, who explored Peru's Inca Lines and Kathleen Kenyon, who made important excavations at Jericho. The final section of the book is a thorough overview of the world's greatest archaeological discoveries broken down into sections on specific geographic regions. The journey begins in Africa, covering sites from Blombos Cave in South Africa to the Pyramids of giza in Egypt. Next comes the Middle East, with important sites such as Persepolis, Babylon and Petra. The chapter on the Mediterranean explores Olympia, Ostia and Pompeii among others, while European sites include Lascaux, Stonehenge and Heuneberg. The tour continues in the Far East, with features on China's Terracotta Army and Angkor in Cambodia, and on to sites in Oceania such as the remote Easter Island. Finally the journey brings us to the many important ancient sites in the Americas, including the Aztec capital Tenochtitlan in Mexico and the Viking settlement of L'Anse aux Meadows in Newfoundland. Lavishly illustrated throughout with over 1200 photographs and maps this comprehensive reference and practical handbook will show how all the innumerable pieces of the archaeological jigsaw are fitted together to make up an ever-changing picture of the human past and inspire the budding archaeologist to build on their fascination with the past and develop a field of interest or potentially a fully-fledged career.
Author description
Paul Bahn is a respected writer, editor and translator of books on archaeology. He studied archaeology at the University of Cambridge, and did his Ph.D. thesis on the prehistory of the French Pyrenees. He has held post-doctoral fellowships at Liverpool and London, plus a J. Paul Getty fellowship in the History of Art and the Humanities. Christopher Catling is a best-selling author whose interest in archaeology and world heritage began as a schoolboy. He writes for Current Archaeology and Current World Archaeology magazines, the Institute of Field Archaeology, and English Heritage, and is the Vice-Chairman of Cotswold Archaeology. He is also an established travel writer and has produced guides to Florence, Venice, Amsterdam, London, Madeira and Tuscany.