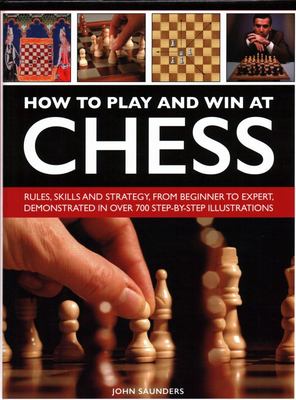 $44.95
AUD
Category: Hobbies General
This expertly presented book tells you everything you need to know about chess. All the pieces and modern rules and terminology of chess are explained in an accessible and structured way, together with an evocative history of the game and its greatest players. The different strategies are explained alon g with how to manage the game as it progresses from opening through the middle game to the end game. Analysis and teaching commences at the most basic level, before moving on to intermediate and more advanced levels. Some of the historic chess masterpiece games are also explored in detail as inspiration for tactical play. Then the book offers ideas about where to play chess and who to play against. Options are outlined such as rapid play or blitz chess, which have timed finishes, and slow methods, such as correspondence chess, which involves long distance play. Understand the rules of the game, pieces and the chess board; includes the basics: how to practise, strategies for attack and defence and how to win the game; teaches chess opening strategies, middle games and good end game techniques at different levels of skill and experience; includes different ways of playing chess such as online chess, fast (rapid play and blitz) and slow games (correspondence chess); offers advice for becoming a more advanced player and playing in competition and even at a Chess Congress. ...Show more
$23.95
AUD
Category: House & Home
This is an essential guide to successful gardening in containers, outside and inside. It assumes little or no gardening experience and guarantees to be an endless source of fresh inspiration for the experienced gardener. The 150 projects are expertly presented with step-bystep photographs and the techni ques are clearly explained, including advice on selecting plants to suit the location as well as general care and maintenance. There are innovative ideas for unusual planters and materials from edible displays and herb baskets to adapting watering cans and chimney pots - but also traditional containers such as hanging baskets or window boxes. ...Show more
$8.95
AUD
Category: House & Home
Whether you are an experienced gardener or a complete beginner, this book contains everything you need to know about designing and maintaining your garden. The book begins with simple design ideas and advice about planning your garden, with straightforward instructions. The sections that follow are pack ed with useful advice, including how to improve your soil and how to achieve a perfect, weed-free lawn. The book then builds on this basic knowledge to suggest more spectacular ideas for gardens. The final sections cover the skills you will need to keep your garden in tip-top shape and includes a checklist of tasks to do throughout the year. ...Show more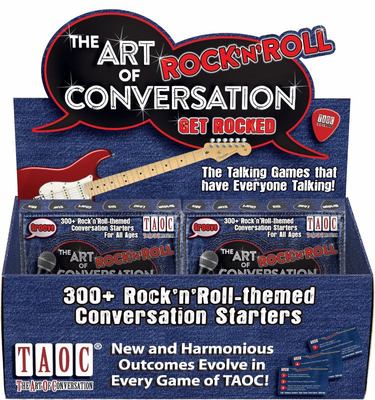 $19.95
AUD
Category: Hobbies General | Series: Art of Conversation Ser.
Frontman, Songwriter & Producer Keith Lamb (Hush, Status Quo) introduces 300] wide-ranging and riveting Rock 'n' Roll-themed conversations, plus a Guide to Rock 'n' Roll Conversations, with fascinating endnotes. Come together with friends of all ages to explore your love for, experiences of, and ide as about the music that makes the world go around. Rap about riffs, raves and riders. Persiflage about producers and pilgrimages. Cross musical generation gaps and other ravines as you share fun times, get to know even more about each other, yourself & the music. ...Show more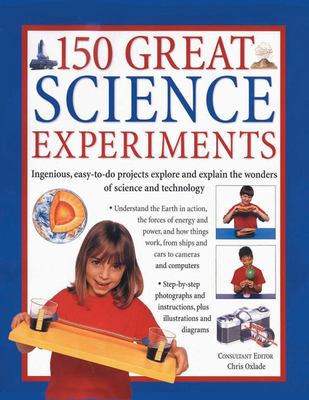 $23.95
AUD
Category: Children's Books
This is a bumper collection of 150 fantastic experiments and projects that explain a wide range of scientific facts, processes and principles. Make a working volcano, construct a reflecting telescope, create a compass, and much more. The projects are arranged thematically to reflect different areas of s cience and technology, such as the natural world, earth sciences, physics and transport. Budding young scientists are guaranteed hours of fascination and amusement while gaining a practical understanding about our everyday world. ...Show more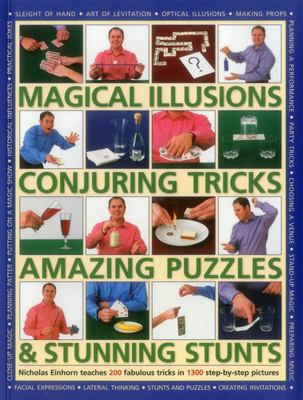 $23.95
AUD
Category: Hobbies General
This comprehensive book contains everything the budding magician needs to put on a dazzling show at home. Expert guidance from a professional magician reveals how to perform more than 200 illusions, ranging from party tricks, close-up magic and stage magic to confounding puzzles and awe-inspiring stunts . It reveals how you can make a coin vanish, have x-ray vision, read an audience member's mind and cut a volunteer in two. Whatever your previous experience and skill level, this exciting and inspiring book will enable you to confound and impress friends and family, providing hours of enjoyment for both performer and audience alike. ...Show more
$23.95
AUD
Category: Hobbies General
Learn from the professionals: how to beat the odds at poker with winning strategies, skills and tactics. This is a complete introduction to the basic elements of the game, including the rules, how to play a good hand, betting structures, calculating odds, card reading, the art of bluffing, and tips for success for players at all levels. It explores the history and culture of the game, including poker legends, the traditions of the American Wild West, memorable games and notable players around the world. It includes draw poker, five-card stud and seven-card stud, Texas Hold 'em and Omaha, as well as online poker, the casino experience, cash games and tournaments. Poker is a game of skill, bluff, deception and sometimes a little luck. This book details the house rules, sequence of play, betting terms, structure and showdown, as well as card reading, body language and the art of bluffing. For more advanced players, the betting structures are outlined, as are the subtle differences between cash games versus tournaments. The casino experience is explored, along with the regulations and conventions in different parts of the globe.This comprehensive, practical book is suitable for beginners and advanced players alike, and will teach all the tips, tricks and tactics that make poker one of the world's most thrilling games. ...Show more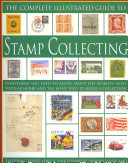 $26.95
AUD
Category: Hobbies General
Everything you need to know about the world's favourite hobby and the many ways to build a collection. Featuring expert advice, vivid examples, famous issues and over 500 images of stamps from around the world. This is the ultimate guide to embarking on, and getting the very most out of, the world's mos t popular hobby. Simple advice starts with the very basics - types of album, types of mounting, where to acquire or buy different types of stamp - and builds from there. There is a huge amount of inspiration for the novice, with countless examples of the bizarre and beautiful stamps that have emerged since the very first issue of 1840. The book gives a complete background, starting by charting the evolution of the postal services and the wealth of collectable material they have generated, from early cancellations made with sections of cork to the pioneering 'first flight' Zeppelin issues, and the advent of rail, boat and air as methods of mass delivery. The parts of a modern-day adhesive stamp are explained which, alongside tips on how to assess grade and condition, will help the amateur philatelist to understand the value of their own collection. There are also step-by-step instructions on how to preserve the quality of stamps while mounting them for display, and valuable guidance on entering the stamp buyer's marketplace, whether attending exhibitions and stamp fairs, or using an on-line auction site. The book encourages the reader to be imaginative about building a collection, and to develop a particular interest in a country, period of history, or theme. It discusses how competitive philately is increasingly taking note of collections augmented by the inclusion of surplus, non-philatelic material, such as photographs and newspaper cuttings. There are also special spreads on the philatelic 'Cinderellas' which were once ignored by collectors but are now being rediscovered, such as colourful poster stamps, specially-produced local and incidental stamps, the issues of private posts, plus charity seals, special service labels, forgeries, flaws, and many more. This book celebrates the diversity of stamps, and their role throughout history and in the modern world, both as an aid to mass communications and a record - in miniature - of the historical events commemorated by countries across the world. Beautifully illustrated with over 500 colour stamp issues, this book is sure to appeal to anyone interested in starting to collect stamps, as well as those already pursuing this absorbing hobby. ...Show more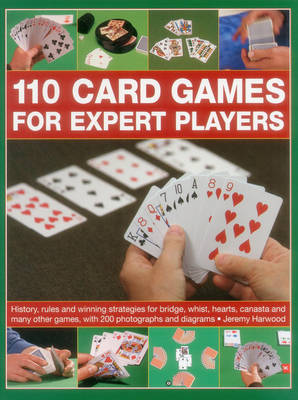 $26.95
AUD
Category: Hobbies General
This book presents the history, rules and winning strategies for bridge, whist, hearts, canasta and many other games, with 200 photographs and diagrams. It is a compendium of the greatest card games from around the world, with clear diagrams of sample deals and hands providing an invaluable visual guide . It details the number of players for each game. It includes professional tips and expert guidance for advanced play in serious games of chance and skill. This beautifully presented compendium explores classic card games from every continent that many players will immediately want to add to their repertoire. The practical heart of the book details all kinds of advanced card games. For every game there is a full explanation of the rules, the type of pack required, card ranking, ideal age, playing and scoring. Diagrams of sample games in play make instructions easy to follow. This is a wonderful resource for all card game enthusiasts. The expert advice and lively background information will appeal to anyone wanting to settle a dispute about rules, find a new game or discover more about the incredible range of card games. ...Show more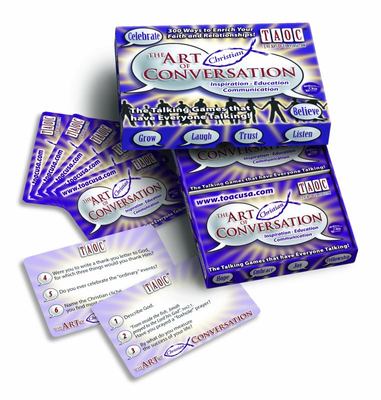 $19.95
AUD
Category: Hobbies General
- The Art of Christian Conversation is a unique, multi-purpose gift & resource. - It is the ideal gift for Christians, and those exploring, providing fresh opportunities for all to share their ideas and thoughts, affirming their faith and enriching their relationships.
$19.95
AUD
Category: Hobbies General | Series: TAOC
Designed to revive The Art of Conversation(R), TAOC(R) is a fabulous way to have balanced, interesting and meaningful communications. This critically-acclaimed Children's Edition is fun and easy to use; great for developing communication skills and healthy relationships, as well as understanding onesel f for ages 4 and up. Contains over 200 communication areas plus instruction booklet. TAOC(R) Children's works well in a variety of settings on various levels, encouraging individual development and insight into oneself as well as others, making TAOC(R) Children's ideal for use in a multitude of educational and therapeutic settings, as well as being fun for all! TAOC(R) Children's is highly effective in numerous areas including: Special Needs ESL, Gifted Programs, Anti-Bullying, Language Delays, Literacy and Language Development, Children at Risk, Speech Pathology, and so much more; leading TAOC(R) Children's to be praised by Educators, Therapists, Parents and Children. TAOC(R) Children's teaches that differences need not create conflicts; it helps clear pathways and emotional blocks to learning and understanding; and facilitates bonding, integration and attachment. TAOC(R) Children's was carefully-researched, developed and tested; proof of the quality of the end result is its GAME OF THE YEAR Award - Creative Play. ...Show more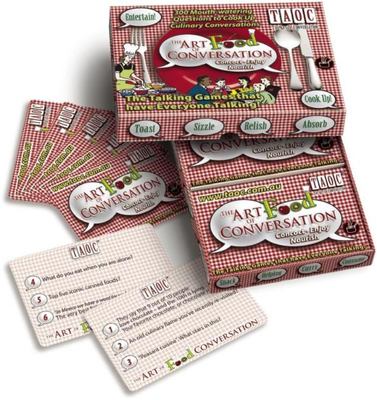 $19.95
AUD
Category: Hobbies General | Series: TAOC
Designed to revive The Art of Conversation(R), TAOC(R) is a fabulous way to have balanced, interesting and meaningful communications. This Food Edition follows on from the success of the original TAOC(R) games, and is an innovative and multi-purpose resource for exploring what really matters about the f ood we eat. Included is an instruction booklet, as well as over 300 culinary entrees to food communication. With childhood obesity an epidemic in the developed world, and eating disorders damaging lives, food education is more important than ever. TAOC(R) Food may be used in a variety of ways to put conflicted attitudes into perspective, and learn about food - what it is, where it comes from, how it's prepared and whether its effects are beneficial or otherwise. TAOC(R) Food is a great way to actively share aspects of food and eating, from ingredients to origins; inspire unadventurous eaters; discuss preparation, tastes, popular dishes, healthy snacks, leftovers and comfort foods, as well as laugh and learn from food quotations. Developed with renowned Sydney Food Editor Trudi Hollinsworth, TAOC(R) Food works well in a variety of settings, facilitating healthy debates and discussions, as well as being a useful tool for research topics and recipe exploration. ...Show more